Popular Posts
As a little girl and as a lady, I have worn skirts and dresses full-time my entire life. I started doing it because my parents taught me to do so, and because it was expected of me by my pastors and church families.
The Bible
Examine the Holy Scriptures closely and you will see that although God's offer of forgiveness of sins and eternal life is free and simple, it is also very offensive to mankind. God's offer is offensive to man's pride, intellect, will, morality, self-esteem, self-righteousness, self-image, and religion.
Soulwinning Helps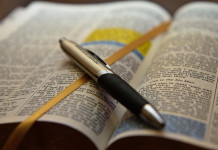 I have met a few people in my Christian experience who felt that they were excluded form the atonement and from the grace of our Lord Jesus Christ.
by Christian Penn: Christians often deal with the issue of assurance of their Salvation. Many among us went through times of doubt and of...
Marriage Helps
Multitudes of parents and teachers have observed a bright child academically excel in school and spiritually in his faith for several years and then become mediocre and apathetic in junior and senior high school. More alarming is the weakening of spiritual desire in this same child at about the same stage of life.