Popular Posts
As a little girl and as a lady, I have worn skirts and dresses full-time my entire life. I started doing it because my parents taught me to do so, and because it was expected of me by my pastors and church families.
The Bible
by James Rasbeary One year ago, I took a step forward in my technological evolution when I was given an iPad for Christmas. This beautiful...
Soulwinning Helps
What does it mean to be soul-conscious? Talk to anyone any time or, better still, talk to everyone every time. Realize that everybody has a soul. The drugstore clerk, the barber, the shoeshine boy, the beautician, the grocery clerk, the milkman, bread man, service station attendant needs the Lord and we should witness to them.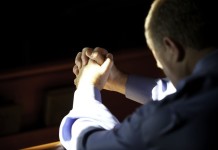 There are several ways to do this, but you must try to get them to pray. If he is really ready, say, "Could I pray for you, and while I pray, would you pray and ask God to save you today?"
Marriage Helps
How many more years of life do you have? What are you going to do with them? Live in the past? Be bitter? Quit living? Make life miserable for everyone around you? Or – decide today that the rest of your days will be quality days?