Popular Posts
As a little girl and as a lady, I have worn skirts and dresses full-time my entire life. I started doing it because my parents taught me to do so, and because it was expected of me by my pastors and church families.
The Bible
This verse is pointing to the fact that the Bible cannot be permanently corrupted, it cannot be permanently altered because it lives and abides forever. Someone would say that this only applies to the Word of God as it is in heaven and therefore when it says it liveth and abideth forever that's talking about the Word of God as it is in Heaven.
Soulwinning Helps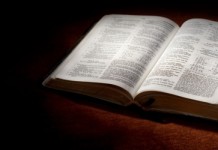 by Billy Sunday: Soul Winning is Difficult Work Now, it is a difficult form of work. It is more difficult than preaching; it is more difficult...
There are two or three things a soul winner ought to watch. A soul winner ought to always watch his odor. That is tremendously important. Not only watch about your body odor, but you ought to be careful about your breath. One thing that will hurt more than most anything else in soul winning is bad breath.
Marriage Helps
I feel strongly led to speak today on the Subject of adultery. The subject should not even have to be discussed in a Christian environment according to the Bible. 1 Cor. 5:1 states that the sin of fornication of the type described, a stepson with a step mom, is "not so much as named among the gentiles."