Popular Posts
As a little girl and as a lady, I have worn skirts and dresses full-time my entire life. I started doing it because my parents taught me to do so, and because it was expected of me by my pastors and church families.
The Bible
There's not one stinking publisher in America that puts these Bibles out because they want you to understand the Bible better.
Soulwinning Helps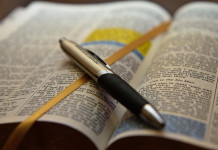 SOMEONE HAS SAID that one example is worth a thousand arguments.
Marriage Helps
I was asked to speak on "The Woman's Role in the Home". Let me say right off, I certainly don't claim to "have arrived" in any of these areas.........the Lord is still chipping away at me. But I would like to share with you what the Lord has laid on my heart in this area of the "Keeper at Home".